Recently, IP House, the first Chinese big data technology company focusing on the intellectual property (hereinafter referred to as "IP") innovation and protection, grandly unveiled the Report on Japanese Companies' IP Litigation in China (2018-2020) via an online and offline combined press conference.

Beijing Wei Chixue Law Firm not only ranks second in terms of the number of cases handled, rates among the top three in respect of the winning rate, but also is ranked in the top 10 in multiple niche market, making an outstanding achievement. When it comes to individual attorneys, three of our attorneys are placed in the top 10 measured by the number of cases they handled, and they are ranked first, third and fourth in terms of the winning rate. The report is a statistical analysis based on the data of court-published legal documents that objectively reflects the each law firm's performance on the IP litigation cases involving Japanese companies and demonstrates Beijing Wei Chixue Law's strength and influence in the field of IP litigation.

According to the report, a total of 1,853 IP lawsuits involving Japanese companies were filed in China between 2018 and 2020, including 1,315 administrative IP lawsuits. The data shows that Beijing Wei Chixue Law Firm ranks second by having handled a total of 165 the aforementioned IP litigation cases, indicating that Beijing Wei Chixue Law Firm has extensive practical experience. Moreover, the statistics on the winning rate of the top 10 firms show that Beijing Wei Chixue Law Firm not only leads the industry in the number of cases, but also maintains a winning rate of 63.81%, ranking third on the list (Top 2 law firms handled fewer cases than Wei Chixue Law Firm), demonstrating that Beijing Wei Chixue Law Firm is completely trustworthy in IP litigation quality.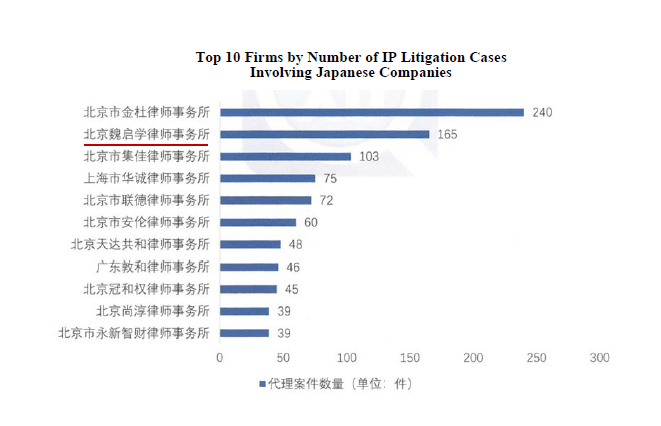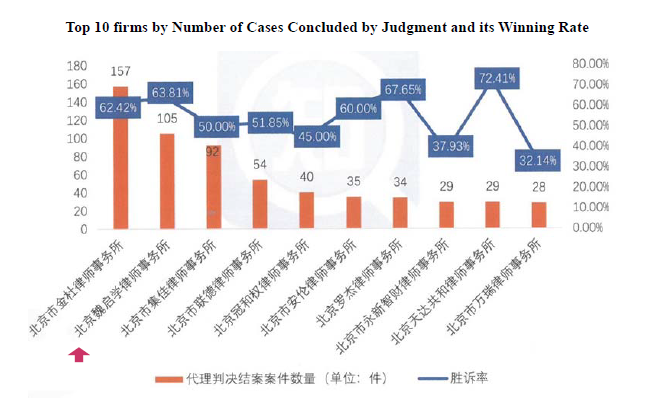 Notably, Beijing Wei Chixue Law Firm also has a remarkable track record of individual attorney performance. As shown in the table below, our attorneys Sai CHEN, Shanji FANG, and Bowen YU rank second, fourth, and fifth, respectively, in the list of the top 10 attorneys that handle the most IP litigation cases in China involving Japanese companies over the last three years (Three attorneys ranking in the list fully demonstrates that Wei Chixue Law Firm boasts talented attorneys and professional staff.). Sai CHEN and Shanji FANG topped the list of the attorneys representing the most top 500 Japanese companies in litigation proceeding.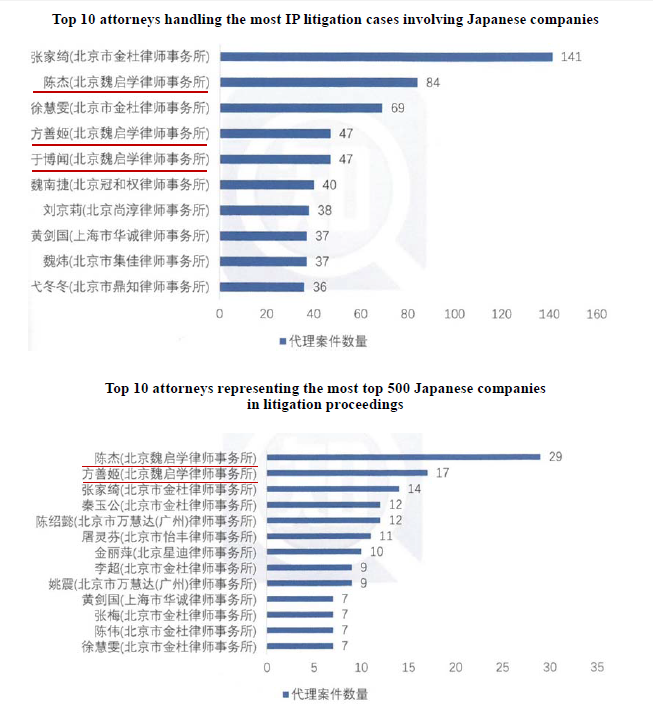 Additionally, Sai CHEN led the ranking with a 77.61% winning rate among the top 10 attorneys measured by caseload.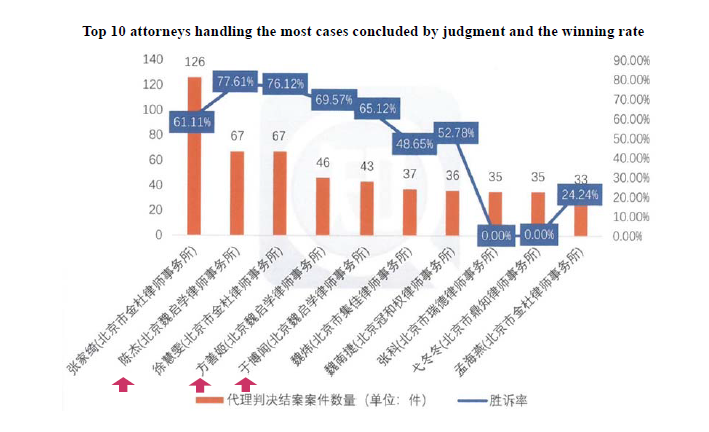 In addition, Beijing Wei Chixue Law Firm is rated third in the breakdown list for the number of patent, trademark, and unfair competition cases. Sai CHEN and Meiyan LI enter the top ten in the field of unfair competition; Sai CHEN, Shanji FANG, and Bowen YU enters the top five in the field of trademark; Sai CHEN and Yu YAN ranks second and third in the field of patent respectively.

"Everything that has occurred serves as a prelude." All of our accomplishments are inseparable from our clients' long-term trust and support. In the future, Beijing Wei Chixue Law Firm will continue to cultivate in IP field, striving to build a professional, high-quality, and trustworthy law firm, adhering to the concept of integrity and a detail-oriented work style, maximizing its advantages in professional knowledge and foreign language skills, and providing our clients with quality and professional legal services with a global perspective. Beijing Wei Chixue Law Firm will continue to move forward and look forward to your continuous support.