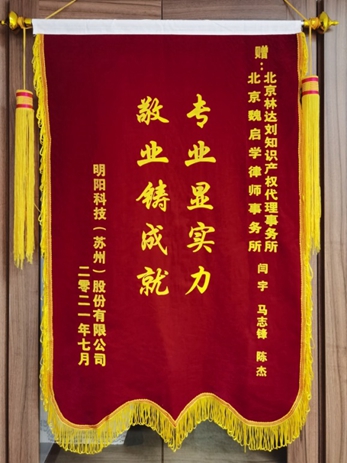 Case Brief:
In September 2020, a World's Top 500 company accused Mingyang Technology Co., Ltd. of infringing its invention patent, claiming damages of RMB 15 million and desisting the alleged infringing act.
Entrusted by Mingyang Technology, our firm proactively responded to the accusation and immediately filed a request for an invalidation declaration against the concerned invention patent. Through our attorneys' extensive preparations and detailed explanation of the technology, all claims of the concerned patent were declared invalid by the CNIPA on July 1st, 2021 on the grounds of inadequate disclosure of the specification.
Highlights:
In this case, the invention point of the concerned patent is the functional modification of thermoplastic fluoropolymers. The patentee claimed that the functionalized thermoplastic polymer used in the invention is a graft polymer rather than the polymer disclosed in the prior art which is obtained by copolymerizing monomers. The patentee further provided counter-evidence materials to prove that the graft polymer has better technical effects than the polymer obtained by copolymerizing monomers.
With profound knowledge in the related technical field and experiences in scientific research of the functionalization of thermoplastic fluoropolymers, in particular, our attorneys knew too well that the grafting ratio of thermoplastic fluoropolymers could not be as high as claimed by the patentee.
Our attorneys pointed to the panel that it is impossible to confirm the specific technical means and the effects of the concerned patent without specifying the process conditions under which the functionalized thermoplastic fluoropolymers are obtained and the method for controlling or selecting the connection of functional groups, the molecular weight distribution and the structure of the obtained product, and the like.
Finally, the CNIPA supported our arguments on inadequate disclosure and declared invalidation of all the claims of the concerned patent.
Thank you for your attention.